The community connectedness survey for familes/community is now open. It can be accessed by the Family Survey Link:
https://surveys.panoramaed.com/aasb/70260family
We use the information to help us make decisions in our school and your input is valuable to us. Thanks.
Junior High basketball practice is canceled today (1/24) due to weather. Stay safe, stay warm.
Wolf pack skiers were putting in some good work today. Way to go skiers.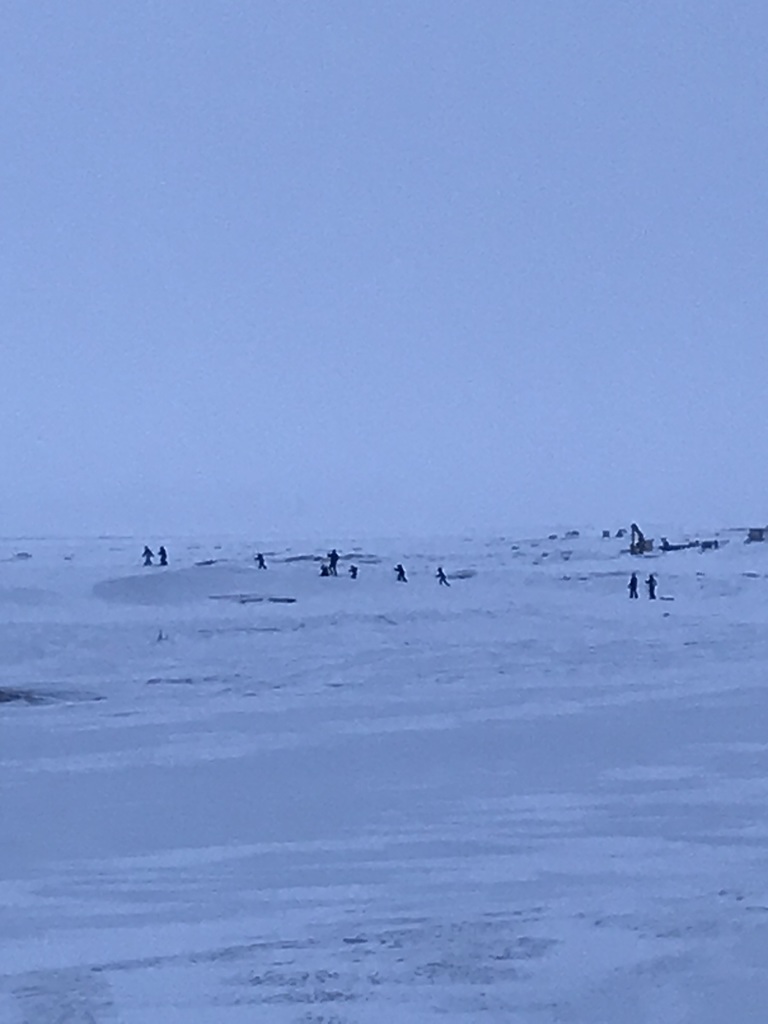 The basketball games that had been scheduled with Kotzebue this weekend have been canceled due to weather.
During distance learning at Unalakleet Schools, sack lunches and work packets (if your child's teacher did not give them one yesterday) will be available for pick up at the front gym doors today (1/21) from 11:00-12:30.
Due to staffing shortages related to covid-19, Unalakleet schools will be releasing early at 1:30 today and will be distance delivery tomorrow. All student activities may continue as planned.
Update to the ski update... due to cold temperatures, we will not have 3rd-5th skiing today. Stay warm.
Update on ski practice: 3rd-5th grade ski practice today at 4pm, and all Elementary practice on Saturday at 12pm.
Unalakleet Schools will start middle school/high school MAP testing Monday- Wednesday of next week. Please make sure your kids get some good quality sleep this weekend.
AEC Meeting Wednesday, January 12 · 6:00 – 7:00pm Google Meet joining info Video call link:
https://meet.google.com/rah-xbah-gtj
Or dial: ‪(US) +1 347-508-5619‬ PIN: ‪114 054 572‬#
Unalakleet Schools will return to our Pre-Covid release times Monday through Thursday starting January 17. School will release at 3:30 on Monday through Thursday for the second semester with Friday's still releasing at 1:30.
No school on Thursday (1/13) and Friday (1/14) due to teacher work day and inservice. Have a great long weekend.
The Chris Lockwood Basketball Tournament is being postponed. I will post details as to when and who as that information becomes available.
The city water level is on the rise, and so Unalakleet Schools will meet in person on Monday (1/10). Thank you for continuing to conserve water.
Unalakleet Schools will be going to distance Delivery tomorrow (1/7) due to the current city water situation. You may pick up distance learning packets and lunches from the front gym door from 11:00-12:30.
Hope you had a great Christmas and a wonderful New Year. Just a reminder for students to start getting back on to a sleep schedule as we are excited about them coming back to school on Tuesday, January 4.
Unalakleet Schools will have a late start today due to road conditions and high wind. Classes will begin at 10am.
We had athletes from Gambell, Savoonga, Koyuk, Shaktoolik, Unalakleet, and Stebbins compete in the Region 1, Northern Conference Wrestling Championships in Nome on December 11. Below are the results. WEIGHT CLASS - GIRLS 112G Raelene Auliye 1st Place Shaktoolik 125G Antoinette Sarren 2nd Place Unalakleet 135G Shanae Campbell 3rd Place Gambell 145G Hope Campbell 2nd Place Gambell 160G Anna Pleasant 2nd Place Unalakleet WEIGHT CLASS - BOYS 112 Walker Ross 1st Place Gambell 119 Cody Aningayou 1st Place Gambell 125 Sean Mokiyuk 2nd Place Savoonga 125 Marcus Evan 3rd Place Shaktoolik 125 Shaun Silook 4th Place Gambell 125 Tristan Ivanoff 6th Place Unalakleet 130 Ricky Paniptchuk 1st Place Shaktoolik 130 Shannon Gologergen-Toolie 2nd Place Savoonga 130 Nathaniel McDonald 3rd Place Koyuk 135 Dean Paniptchuk 2nd Place Shaktoolik 135 Keane Wilson 4rd Place Unalakleet - AT LARGE 135 Gavin Douglas 5th Place Koyuk 140 Jeremy Koozaata 2nd Place Gambell 140 Dawson O'Connor 4th Place Shaktoolik 145 Nikolai Avaulnun 4th Place Gambell 152 Ryan Nashoanak 3rd Place Stebbins 152 Kylon Slwooko 4th Place Gambell 152 Davien Angi 5th Place Gambell 160 Devin Rock 1st Place Shaktoolik 171 Dylan Silook-Apatiki 2nd Place Gambell 215 Derek Seppilu, Jr. 1st Place Savoonga 285 Travis Takak 3rd Place Shaktoolik - AT-LARGE TEAM AWARDS 1A/2A Team Boys 1st Place: Gambell Qughsatkut 1A/2A Team Girls 2nd Place: Unalakleet Wolfpack, Shaktoolik Wolverines, Buckland Sissauni (3-WAY TIE) Academic Award: Gambell Qughsatukut Most Outstanding Wrestling - Boys: Derek Seppilu Jr., Savoonga 1st and 2nd Place individuals are awarded a berth, and 2 athletes were chosen at large to represent BSSD at the State Wrestling Competition December 17-18 at the Alaska Airlines Center. Teams are on the ground in Anchorage and beat these wild winds. Congratulations to all and good luck!
Though our community currently has active covid cases, there are zero active school cases. According to district covid protocols, our school status is based on current school related cases hence our being green. We require masks in the building, are thoroughly cleaning our facilities, test our students who are traveling for events, and maintain a symptom free school. If your student is showing possible symptoms, we ask that you have him/her cleared by the clinic prior to sending them back to school.